San Francisco, CA (PRWEB) February 25, 2014
Ringadoc, the industry leader in next generation patient-doctor communication tools, today introduced Ringadoc Phone Concierge, a virtual consultation service designed to introduce a convenient new first touch point into medical care for patients and their existing doctor.
In an increasingly congested, expensive and reactive healthcare system, the potential benefits have never been greater to begin taking better advantage of technology to introduce new, lower cost options to guide and deliver care, says CEO & Co-Founder Jordan Michaels. If you arent the President or have a doctor in the family your only option when you get sick is to head to the emergency room, or wait, often for weeks, for the next available appointment with your physician. This standard of care is extremely inefficient from a time and cost perspective, but most importantly, it can easily result in patients getting suboptimal care, or forgoing care they need.
To use Ringadoc requires no behavior change for patients. They simply call their doctors office and leave a message, which is delivered directly to the doctors mobile app and allows the doctor to instantly connect to speak with the patient with the click of a button. For the convenience of on-demand access, patients pay a small fee of around $ 40, similar to a standard insurance co-pay for an office visit and significantly less expensive than a trip to urgent care. Patients can pay with their Flexible Spending Account, Health Savings Account, or major credit card.
These on-demand, virtual consultations represent an ideal setting for patients to get help navigating the first steps of any new medical issue. Patients can review their symptoms in real time, renew their prescriptions, get a referral to a specialist, or determine whether an ER or urgent care visit is necessary. We give practices the tools to more efficiently manage their patient population, generate additional revenue, and make their patients happier by offering the type of premium access typically reserved for only the wealthy, says Michaels.
In contrast to predecessor telehealth companies that connect patients with a random healthcare provider that a patient has never met, Ringadoc is specifically designed to connect patients with their own doctor, leveraging the doctors familiarity with the patients medical history to broaden the scope and increase the quality of care. Knowing the patients Im talking to has helped me more reliably identify whether it is an issue I can resolve right then and there, or if it requires follow-up. Patients that have been able to reach me directly have easily saved thousands of dollars in unnecessary Emergency Room visits simply because I know their history and can better interpret their story. says Dr. Patterson of Back to Basics Medical, a medical practice in North Carolina. My patients recognize Ringadoc is a valuable service and are more than willing to pay a reasonable amount to be able to have immediate access to me outside of an office visit at their convenience, says Dr. Patterson.
In just under a year since launch, Ringadocs HIPAA compliant communication platform has automated over 900,000 calls and has helped over 1,000 healthcare providers and 1.5 million patients across the nation better communicate. Providers who use Ringadoc have an average response time of less than 3 minutes, proving that the platform is the quickest and most convenient way to virtually get in touch with your doctor.
Key Facts

Ringadoc Phone Concierge is a simple service that makes it easy to connect instantly with your personal doctor for a convenience fee outside of insurance coverage rather than a random doctor drawn from a network
According to a Commonwealth Fund study, two-thirds of Americans report difficulty getting an appointment or telephone advice
Millions of new Obamacare patients are being added to the system, increasing competition for a doctors already limited time
70% of patients are comfortable communicating with their doctor outside their office according to Cisco and 93% of patients believe one provider should be responsible for their care
According to a Physicians Foundation study doctors provide over $ 25,000 in uncompensated care each year with prescription refills alone costing $ 10,000 (SureScripts study)
To learn more about Ringadoc visit http://www.ringadoc.com.
About Ringadoc

Ringadoc is the leader in virtual patient-doctor engagement. Ringadocs communication platform empowers doctors by giving them the ability to triage patient calls, centralize communications, and manage their patient population on any device. Ringadocs network of over 1,000 healthcare professionals serves 1.5 million patients across the country. Based in San Francisco, Ringadoc is backed by top Silicon Valley investors including FF Angel. To learn more about Ringadoc, visit ringadoc.com.


Indianapolis, IN (PRWEB) February 25, 2014
CloudOne (http://www.oncloudone.com), an IBM Premier Business Partner and the world leader in cloud delivery of IBM Software-as-a-Service, is pleased to announce support for IBM Maximo and IBM Service Engage. Built on IBM?SoftLayer?, Service Engage delivers Maximo as a SaaS service from IBM for the first time. When customers procure this service through CloudOne, they add round-the-cloud support, availability monitoring, backup and recovery to IBM's public cloud Maximo SaaS offering. Additionally, CloudOne's network of Maximo partners offers migration, configuration and training skills around a customers environment, delivered as one single service through CloudOne.
In addition to this new offering, CloudOne will continue to provide its pioneering Virtual Private Cloud service for hosting of existing Maximo environments, bringing managed services and secure, private cloud delivery and on-demand SaaS licensing to customers who need higher security levels than public clouds offer, or specific customizations and data migrations unique to their organizations.
The announcement was made at IBM Pulse 2014: The Premier Cloud Conference. John McDonald, chief executive officer of CloudOne said, CloudOne has for many years been the pioneer of helping IBM customers move to SaaS and Cloud. This new announcement broadens our portfolio to include an easy-to-implement, low-cost, pay-as-you-go service built on IBM?SoftLayer?, perfect for new Maximo customers who want to start quickly. We look forward to adding this capability to our existing offerings, geared toward large enterprises with unique security and networking needs and high degrees of customization.
About CloudOne????

CloudOne delivers on-demand Software-as-a-Service (SaaS) and Virtual Private Cloud solutions for IBM? software tools to meet the needs of all industry verticals and variably sized organizations. Cummins, Panasonic, Hilton, CVS/Caremark, US Army, Shell, Xerox, Deloitte, Express Scripts, Delphi Automotive, Harman/Kardon, McDonald's and other organizations worldwide rely on CloudOnes cloud-based IBM SaaS services to make their infrastructure work on-demand.
Started in 2009, the company is privately owned and headquartered in Indianapolis, IN, CloudOne speeds the development of IBM? technologies with no up-front capital, so companies pay as they go on a monthly subscription saving them money on infrastructure, staffing and configuration costs while creating a dynamic, elastic environment to facilitate global collaboration, visibility and consistency. To learn more about accelerating architecture initiatives with CloudOne, visit http://www.oncloudone.com/ or follow us on Twitter @OnCloudOne.
Find More Script Press Releases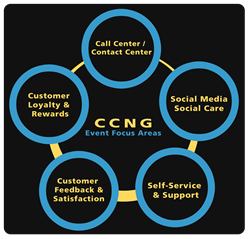 Fort Worth, Texas (PRWEB) March 07, 2014
CCNG International Inc. is pleased to announce the April event schedule for the 2014 Improving the Customer Experience event series. The event in Tampa, FL on April 10th will be hosted by Coca Colas contact center operations and the Phoenix, AZ event on April 24th will be hosted by Toyota Financial Services. Both events will focus on strategies and best practices for customer service and contact center operations can improve overall levels of customer experience in five key areas


????Call Center / Contact Center
????Customer Loyalty and Rewards
????Social Media / Social Care
????Customer Feedback and Satisfaction
????Self Service and Support
Our events are hosted by CCNG members wanting to showcase their contact center and customer experience management capabilities, says David Hadobas, President and CEO of CCNG International Inc. We had a great kickoff event in February with host Thompson Creek Window Company / Closet America in Lanham, MD and we look forward to our March 13th event in Charlotte, NC hosted by Family Dollar.
The focus for the CCNG events this year is on improving the customer experience, where attendees will gain valuable insights from many different professionals representing a wide range of industries including financial services, retail, travel, public utility, telecom, insurance, healthcare, BPO, and many more.
What are your peers saying about participation in CCNG events?
After attending our first CCNG event, we decided to become members. Not only do you get to bend the ear of industry professionals who have experienced exactly what you have experienced you get insight into how many ways there are to solve common problems. Weve walked away from both events thinking, wow I would have never thought about it like that, and, Im sure glad we met so and so. Lets give them a call when we get back to the office and continue our conversation.- Jon Dill, Operations, All Car Leasing.
The Thompson Creek Windows management team was great, they hosted a flawlessly conducted event that flowed smoothly and at which they made everyone feel comfortable. The Thompson Creek Windows team's presentations were outstanding, chock full of useful information and professionally delivered. And they have a great customer service story to tell! says George Alber, Director, Winston Salem Industries for the Blind. The CCNG team designed and facilitated an event with plenty of opportunity for town-hall like discussion and small group interaction that succeed in stimulating priceless best practice discussion among the participants.
The April events will feature a morning keynote from hosts Coca-Cola and Toyota Financial Services, an open all-attendee group discussion led by our hosts and sponsors, thought leadership talks from the sponsoring partners, followed by small group sessions and site tours. A very engaging ? day full of insights, feedback, peer perspectives!
CCNG partners sponsoring the April events include Plantronics, Voice Print International VPI, Five9, Avaya, OpenSpan and Aspect Software.
For details on how to attend and guest pass availability, contact Ginger Graber, ggraber(at)CCNG(dot)com.
View program details at http://www.CCNG.com
CCNG International Inc.
Founded in 1992, CCNG International Inc.

CCNG is a member Professional Peer Network (PPN) for Contact Center and Customer Service Executives, Managers, and Leaders.

Within the CCNG Member Network, Contact Center and Customer Service Professionals:

????Connect for networking and sharing best practices
????Interact to enhance their professional network and gain valuable insight into Contact Center and Customer Service best practices and technology.
????Share their experience and ideas contributing to the valuable discussion
All Call Center, Contact Center, Customer Care, Customer Service, and Customer Experience Professionals are invited to participate in the CCNG Member Network.
For more information about the CCNG Member Network and to gain access, please visit CCNG.com. Like us on Facebook and follow us on Twitter @CCNGNetwork.


Cincinnati, Ohio (PRWEB) March 06, 2014
Tag N Go, a leading telematics provider, today announced it won a Silver Connected World Award in the Global Positioning Satellite (GPS) category for its complete GPS Safety System designed to improve safe driving performance. The Connected World Awards honors companies successfully leveraging machine to machine (M2M) communications to solve a critical pain point within their industry, which demonstrates quantifiable results. Tag N Go, working with CalAmp (NASDAQ:CAMP), provides a unique digital safety system enabling productive dialog between parents and teens for teaching and fostering safe driving habits to last a lifetime.
According to Glenn Scott, Co-Founder of Tag N Go, Tag N Go provides a solution for parents and teens to have an ongoing discussion on driving performance. Studies show that teens whose parents are supportive and involved in their driving safety were half as likely to have an accident.
The Tag N Go GPS safety system calculates a proprietary Drive Score?, which analyzes safe driving techniques relative to acceleration, breaking, and cornering. Drive Score? compares driver speed versus the actual US posted speed limits on the route taken, then calculates a letter grade for each trip driven. Each and every trip is stored and readily is available for Trip Replay? to view and isolate areas for safety improvement. Trip Replay? and is accessible via highly interactive web and smart phone apps, and can be analyzed by teenage drivers and their parents. All Drive Score? and Trip Replay? statistics are stored in a secure system for analysis over time, and available for private family use. Tag N Gos comprehensive actual driving behavior data is acquired utilizing the industry-leading LMU 3030 device, as well as bundled software platform and data services provided by CalAmp.
The 2014 award winners honored are a combination of large and small companies representing a range of industries and applications. These winners came from areas of energy and healthcare, as well as building automation and retail. Solutions were implemented for GPS, car sharing, and even concrete-management systems, says Peggy Smedley, editorial director, Connected World magazine. This is a testament to the growth of the vertical markets and acceptance of the technology within those various segments.
The Connected World awards emphasize the process of creating a winning solution by combining multiple technologies, such as device, connectivity, hardware, radio modules, network service and provisioning, as well as application software and infrastructure. Award winners were announced during the Connected World Conference, held in conjunction with the 2014 Chicago Auto Show.
About Tag N Go
Based in Colorado Springs, Colo., Tag N Go is a complete GPS safety system designed to assist families, driver educators and insurance providers to teach and foster safe driving habits that will last a lifetime. Tag N Go is active in the US and expanding globally. For more information please visit http://www.TagNGo.com.
About CalAmp
CalAmp (NASDAQ: CAMP) is a proven leader in providing wireless communications solutions to a broad array of vertical market applications and customers. CalAmp's extensive portfolio of intelligent communications devices, robust and scalable cloud service platform, and targeted software applications streamline otherwise complex machine-to-machine (M2M) deployments. These solutions enable customers to optimize their operations by collecting, monitoring and efficiently reporting business-critical data and desired intelligence from high-value remote assets. For more information, please visit http://www.calamp.com.
About the Connected World Conference
The Connected World Conference is the window into the emerging technology trends shaping the future of connected devices. The conference is a destination for everyone interested in learning, sharing, and presenting their ideas and visions about the future of our digital lifestyle, connecting to our vehicles, our homes, our energy, our apps, and our health/fitness. This event gives attendees a chance to explore the strategic shifts that new technologies will have now and into the future. Visit http://www.connectedworldmag.com/conference.